2007 News
12/28/07 Hillsborough Tournament Gladitorial Games
January 11-13, 2008 at Hillsborough is another round robin tournament. I always rave about these tournaments because it's the best bang for the buck and you get to play a bunch of different people. Check out the application. The deadline is 1/4/08.
12/28/07 Rutgers Racquetball Listserv Audit Underway
For a long time, I wrote about cleaning up the listserv. Yesterday, I finally put the ball in play. About two hundred and fourteen messages went out last night with a link to a special web page that records reponses and creates member accounts. I felt it was necessary for a couple of reasons.
Want to see how many people are reading my posts.
See if my other projects are worth while.
I was proud of the 214 for a while, but as time went on I suspected it just cannot be true. Already about twenty six messages bounced and a lot more may be on a kill filter or ignored. I hope there's strong support and a need for what I'm proposing to develop, but if the turn-out isn't there then their might be other projects that can have more of an impact. Always have to look for the right shot at the right time.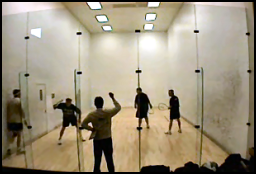 12/24/07 Three More NJO Vidoes Posted
Two Doubles Matches and one more Singles match round out my video coverage of the NJO event at Woodbridge. Check out the NJO Video Section for links to DivX's Stage 6 and more racquetball goodness.
I wanted to thank everyone that viewed the videos and supported the NJO event. I know it's probably not as fun as watching the Pro's play, but I think it's important to get it out there. Hope everyone has a Merry Christmas/Happy Holidays and a Happy New Year. (Picture at left: Mark Kane, Wayne Suggs (shooting), Steve Aguirre, and Wayne's partner Jim LaSala (Team E-Force) in the Men's Doubles 40+ Final.)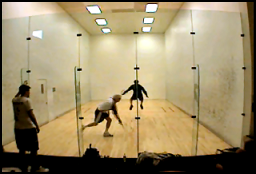 12/17/07 NJO Video Coverage
Couple of players I know came up to me at the NJAR's NJO and asked if I was recording matches, so I dusted off the old camera and recorded five matches at the NJO. I'm still using DivX so you'll need the free player to make it work. Check out the Racquetball Videos page for more information and videos.
With my complete setup, I record directly to my laptop (tapeless) in DivX format and just chop out the dead space and run it through a software converter. Saves me a lot of time compared to what I used to do. (Picture at left: Robert Caime [air] vs. Peter Holden in the Men's 50+ Final.)
12/12/07 NJO. A Great Tournament!
Racquetball Tournaments came back to Woodbridge with a bang. About one hundred and thirty players signed up over the three day weekend. It was a great event with refs for every round, great food and drink, a cool shirt, and ran relatively on time. They also had bleachers setup on most of the courts and they were full on Sunday for the most anticipated match of the event. The Open Doubles Final between Ruben Gonzalez/Pat Bonanno vs. Aimee Ruiz/Sanjay LaForest.
People cheered and clapped for the second seeds (Aimee and Sanjay) and some rallies were played out on the floor. With Pat diving in the front court keeping the ball in-play. Aimee covering deep and taking anything off the back wall. Sanjay picking off anything Pat left up front. Ruben was a blur and covered the rest of the court. Aimee and Sanjay played a great game, but for the third time in a row (that I know of) it wasn't meant to be. They lost in straight games. Check out the results.
11/12/07 Twenty One Players Showed Up to the Rutgers Head Demo w/Aimee Ruiz
About twenty-one people showed up to try different Head Racquets tonight at the Sonny Weirblein Rec Center on the Busch Campus of Rutgers University. We had about five people from Hillsborough, five to six new students, and the rest of Rich's Racquetball Ladder Regulars. Aimee Ruiz was kind enough to come over and "school" some of the players. Most just sat on a bench in awe about her graceful killshots, pinches, and down the lines that almost took the panels off the walls. It was a great time, but I didn't have my digital or camcorder with me. So no pics.
I stepped up this time and played Aimee. I walked away with three points and some advice. Think about the placement of your lob serve and take a deep breath before serving to focus. Felix Ruiz and I played some doubles. I also played doubles with Tina Davitt, Team Head, and Jon Panno, Team Ektelon.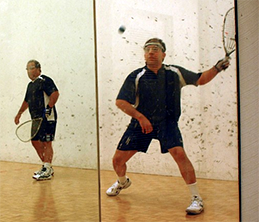 11/11/07 Patriot Games Pictures from Hillsborough
Some pictures from Joe Camiolo and others at Hillsborough have been posted to the HRC Site. Hillsborough is a great place to play and it has some great people. The tournament was a round robin so well worth the money. A couple of problems like A's and B+ being scheduled at the same time and some Air conditioning problems made some of the courts slippery, but overall it was a great event. Enjoy the pictures. Thanks for the pictures Joe. Another picture actually sparked a blog entry.
11/06/07 Racquetworld.com 2007-08 Racquet Ratings
I look forward to it every year. Racquetworld.com has published their ratings for this Season's racquets. It's a great resource for people looking to buy a new racquet or just see what you wound up with.
10/27/07 Team Head Demo at Rutgers Busch Campus on Monday 11/12/07 featuring Aimee Ruiz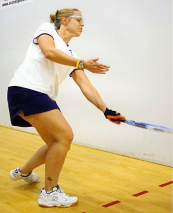 It's that time of year again when everyone at Rutgers gets the chance to play with the latest Head equipment. I'm also glad to announce that Aimee Ruiz World and National Doubles Champion is coming over again as the "Play the Pro". It's a great chance to play Aimee, try out some equipment, and have a good time with other racquetball players. The Weirblein Gym has agree to provide parking passes for the event.
We can really use the support to send a message to the administration that Racquetball at Rutgers is still strong and to give us our court back! I look forward to seeing you and please email me if your coming. If you're new to racquetball we especially want you to come out, try the sport, and get some expert advice. I plan on being there about 7 PM, more details to follow.
10/26/07 The Return of Joe's League!
I can see what the absence of my league caused at Rutgers and the weak racquetball programming from others isn't helping! So as I've wrote in the past...IT's TIME TO PLAY THE GAME!! Sign-up or read theLeague News.

10/04/07 How To Article: General Safety
I got a little wrapped up in making the flash for this article. Well if I add this then or this or that doesn't quiet look right, real easy to get sucked up into the details. Anyway posted the article including a basic flash animation. Good starting point for begineers.
9/15/07 Article on Why I play with Head Racquets?
The article is a little short for my tastes and I cut it almost in half to under 450 words. Anyway I wrote about my experiences with the Head line of racquets and why I've stuck with them for over five years.
9/11/07 Never Forget!
A Jersey radio station, 101.5, had a couple of commerical breaks where they asked listeners to reflect on 9/11, so we can never forget the people who lost their lives that day. I reflect on a friend that I had in Grammar School, Port Authority Police Officer Christopher Amoroso. I'll be honest, if 9/11 never occurred I doubt I'll even think about him. He played Football and I was/am a Nerd, so in High School we lost touch and he eventually moved to another school, but growing up we had snowball fights, rode bikes, and played this silly paper game called War.
I'm proud to have known him, he gave his life protecting people. A True Hero. My deepest sympathy to his family, friends, and to everyone else that lost someone six years ago.
9/11/07 Tournament App for Patriot Games (10/5 to 10/7/07) at Hillsborough Posted
Check out the application for one of the best tournament values in New Jersey. Hillsborough sports a pretty good facility with good players and a round robin tournament for $35 and an additional $10 for Open Doubles. If you're just starting out this is a great place to get started in Tournament Racquetball.
8/31/07 Article on Mental Toughness
Looking for ways to increase my site content, I decided to add racquetball articles to my site. I decided to start with a topic near and dear to my heart, mental toughness. I spent about five and half hours revising the article and cutting it down so it's concise and helpful.. Well I hope it is.
8/07/07 NJAR Tournament Schedule
Four tournaments have been posted to the NJAR Tournament Schedule. Check the website for tournament applications and additional information as it becomes available.
8/04/07 New Jersey Clubs Listing Added
Under Racquetball Club Locations I added a partial list of New Jersey Racquetball Clubs that Gloria Fidecaro (Hillsborough) and I created a while back. I saw a couple of search engine keywords for clubs in my stats and thought it was a pretty useful and quick addition to the site.
7/24/07 Aimee Ruiz New Head/Penn Regional Marketing Coordinator for New Jersey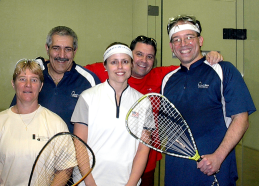 Aimee Ruiz sent out an email to all the New Jersey Team Head Players today introducing herself and some of her accomplishments. Vice President of the NJAR, 20 years of racquetball experience, being sponsored by almost every Racquetball Manufacturer, and being a Women's National and World Doubles Champion.
Her goals are to increase the number of Head Sponsored Players in New Jersey and participate in more Head demos as the "Play the Pro" like she did at my demo last year at Rutgers. A lot of people showed up and tried racquets which was awesome. Picture (from left to right): Gloria Fidecaro (Team E-Force), Joe Camiolo (Team Head), Aimee Ruiz (Team Head RMC), Felix Ruiz, and Joe Delgado (Team Head).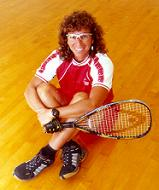 06/29/07 Fran Davis Racquetball Camp, July 27 to 29th at Woodbridge
Fran Davis likes to start off her camps and video with "Your mind is like a parachute, when it's open, it works..." The first camp I went to, I took notes, did what I was told, and even practiced for a short time afterward, but the chute closed up and I went back to my old bad habits. A mistake I'm still paying for.
The second time, some things were reinforced, and since then I reference her video and try to intergrate one small step each time. I had a rare chance to play with Jim Fay on Wednesday. I haven't played with him since the time I took my first Fran Davis camp. To have him say "You got a lot better." Is a validation of the work I put in and what Bill Serafin and Fran Davis have taught me.
If you want to learn the correct fundamentals, then Fran's Camp is the place to go. If you want to make it a pernament part of your game...her camp is just the first step. Also you get out of the camp what you put into it, so don't be a wall flower. Fran Davis, Jason Mannino, and the other staff at the camp are there to help you, but you really need to check your ego at the door and give up everything you learned about the sport on your own. Check Fran's website for camp details. The Club at Woodbridge is near Woodbrdige Center Mall off U.S. Route 1.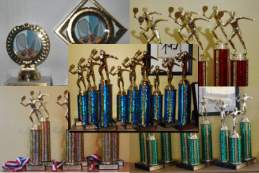 06/04/07 New Leagues Page
It was something I should have been doing all along, but kind of let things pile up over the years. Each league has pictures, drawsheets, matches, news, and other information. All of that forms a collective history of our accomplishments and friendships. So it was nice to assemble this and remember the times we've shared playing racquetball and of course the times to come.
I've been running leagues at Rutgers since 2002. I kind of let things slip during the last league and will work on some measures to keep things on track for the next one.
05/26/07 World Outdoor Racquetball Doubles Tournament at Hudson County Park!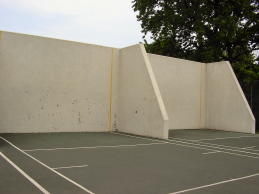 I was skeptical when Jon Panno, Aimee and Felix Ruiz told me about outdoor racquetball at Hudson County Park. I grew up in North Bergen and I thought racquetball is big there, at that park. Nah! But when I saw the DLC Sports Broadcast about an Outdoor WOR Tournament. I thought how cool is this! I emailed Benny, the Tournament Director, and he sent me the app and the photo at left. Wow I don't remember them being that nice! My best friend, Otto, and I used to play paddle-ball on those courts for a short time..twenty or so years passes by pretty quick.
Anyway I'm not going to be able to make this one. My son has another birthday party on June 2nd. I wouldn't mind trying some Outdoor and seeing the park, and the people who play there. Sounds like a good crowd. Here's the app for more info.
05/26/07 My Kind of TV after a Hard Day!
After a cutting the lawn, trimming trees, spraying for weeds, and just baking outside it was nice to take a shower, sit down, and watch some racquetball alone. Jon Panno told me about Racquetball Online a long time ago, I finally checked it out for the free Nationals Coverage.
I lucked out and watched the semi-final between Mitch Williams (Team Head) and Rocky Carson. The sound the ball made after Mitch hit it didn't seem real, commentators were saying it's like 150 or 160 MPH! Anyway Mitch destroyed Rocky in the first game 15-4 and squeaked out game two 15-13 or so. Rocky was skipping about nine balls per game, so he wasn't playing his best or kept getting busy signals trying to dial into Mitch's power and wide-angle passes..
Overall it was nice to see, but at 15 frames per second the ball was kind of jumpy, the commentary was so-so to ok, and the USA Racquetball website coverage was pretty lame compared to all the stats, radio, and other features of the Tennis US Open site. Overall a nice step forward. Hope you get a chance to tune in and watch. Think it's the first time some new faces are in the National Final! Think it starts at 2 PM Texas time.
05/12/07 Learning...Learning...and Learning some more!
Besides preparing for my Son's second birthday. I've been spending a good deal of time learning. Like Adobe's Flash, Illustrator, and Photoshop. I've also been reading a Flash 8 book and even downloaded some online training from LearnFlash.com. So lots of things are swimming around in my head. For the most part, I want to continue converting my content to MySQL and I've been approaching it the wrong way from the middle. I need to rebuild everything from the ground up. I just need to focus on keeping things basic and take on one piece at a time.
04/10/07 Predator's Peril Pictures on the Hillsborough Site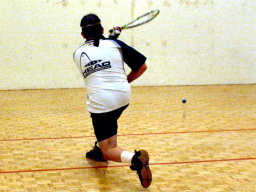 After a couple of years, Hillsborough is starting to grow on the web a little and published their own pictures from the Predator's Peril tournament last month. Looks like a nice photo album similar to what I use.
Joe Camiolo caught one of my best forehands during an actual game. My knees are actually bent! Still a little off balance, my back foot lifted off the ground, and my racquet should be more in line with my right elbow, but I've seen a lot worse. And yes I think I killed that shot cross court!
Got another third place finish in A's, if I remember correctly, and actually did pretty good with Tito Sharma in Open Doubles, 9th out of 11 teams. A personal best for Open Doubles.
03/31/07 Microsoft Interent Explorer 7 Wins Over Firefox here
Well they are both pretty close and I like Firefox's bookmark management, rendering engine, and some other features. But, when it comes down to readability IE wins hands down. IE's ClearType makes text that is often too small and too thin to read in Firefox a lot better.
03/24/07 One of the Best Tournaments in Jersey and I'm on my butt!
Well the short of it, I played Predator at Hillsborough this month. I was not going to get compensated (tournament entry) for shooting video at NJ State Singles, and I learned today that my Mother-in-Law hurt her ankle during the last snow storm, so looks like it wasn't in the cards. The tournament started Friday night, there hasn't been a three day tourney since...Well I can't remember the last time. From the start times there were a lot of new people. So looks like a good win for Jersey and the NJAR.
03/20/07 NJAR State Singles Looks Promising 101 Signed Up!
Heard there's about one hundred and one players signed up for NJ State Singles this weekend. There's going to be raffels, food, and of course racquetball. So looks like a good start for the NJAR. I'm planning on being there Sunday, but somethings gotta fall into place.
03/03/07 First Video Posted Online. Gonzalez/Pedraza vs. LaForest/Ruiz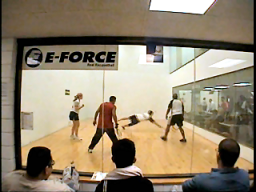 Having a computer with an actual pulse has really helped my video editing projects. Anyway I have plenty of tapes left to mill through, but I committed on the NJRF website to post video of State Doubles and after a couple of failed uploads I did. I gotta say it looks pretty good, DivX is such an awesome format! It's also the first time I got to watch Ruben Gonzalez play and to have other power houses like LaForest, Pedraza, and Ruiz out there too. It's was pretty cool..
It's about thirty eight minutes and pretty intense, so click on the picture or head over to Stage6. Let me know how it works out for you and I'll post more. I think racquetball needs to be out there more.
02/09/07 PHP and a Wider View!
I added about two hundred pixels to the table that makes up this page, so I can use the room for more flash, better tables, etc. It was an easy first step for new content. I also redirected default.asp to default.php, so I can setup some PHP code on this page.
02/04/07 Double Kill Surpasses Expectations! 2nd Place in NJ State C's!!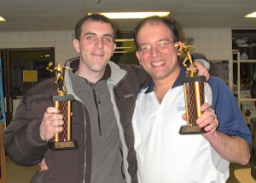 These past two weeks seem to have flown by. My old partner, Leigh Marhsall, came back for a visit from Taiwain. It's been about eighteen months since we've seen each other and he's been away that long or more from racquetball. When I told him about State Doubles he really wanted to play despite how everyone told us we were crazy to try. I even thought Leigh would chicken out.
We watched some of our old matches Friday night and I remembered the one thing that could give us a fighting chance. Chemistry! Leigh is a very competative and emotional guy and I feed off that. I come out of my shell and probably surprise people that know me. It hasn't work with other partners. Just something doesn't create the same zone.
We played B's and C's at Fairfield this weekend. B's was a single round elimination and I feel back into my old habits. Lack of Focus. After the loss, I was pretty angry at myself. Basically thought is another year going to by suffering from the same problems? Did Leigh step up just to lose with me? I talked to Leigh about it and basically said no more! I was going to attack C's with everything I had. We took a game or two from everyone in the robin even the Champs. I think we could have done better if we focused on their backhands Leigh! They were signifficantly weaker. Leigh's pinch wasn't up to snuff and I rushed a lot of shots in a berserker rage, but our focus was there most of the time and we played our hearts out. By the last couple of points in the last game, my legs had reached their limit.
We came back on Sunday to video some matches and take some pictures. Leigh asked Bill about the results and we wound up getting 2nd place with 100 points. First place had 104. A couple of things didn't add up. First, the 2nd place trophies for C's were missing. Second, if one team out of the robin dropped out and the games they played were nullified. How can we still have 100 pts. playing three teams two games to 15 each? It doesn't matter, we played as hard as we could. I kept a better focus, even if it was inconsistent at times, and even switched roles with Marshall and became even more competative then he was at the time. As a team, Mental Toughness is an obvious weakness, but also can be our greatest strength. If we can level out the highs and lows--we'll be even better! Have a safe trip back to Taiwain until the next time Leigh!
01/01/07 Happy New Year
Well a good start to the new year. I met my deadline for the MySQL/PHP pages that display match information. I still need to make it look pretty and work on some additional bells and whistles, but the major work is done. My goal has been met! Happy New Year!
Events Summary will still be the gateway to all the exhibition and other matches. It'll just pull that data from a database instead of static HTML docs.