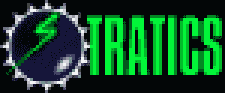 "...I've been thankful for Stratics since I got UO because
they have everything one could ever want for Ultima." (4/24/99)
Read Review |Go to UO Stratics
Recently Gamer Sites
Wanted to offer mission editing resources and some game advice on this great game. It is hardly complete, but I'm working on it. (4/16/02)
Gamer Sites
Yes, it's my own page and there's often no harsher critic than ourselves. It's a small page on tricks and tips for the Paladin class in Diablo II. Doesn't have a lot of stats like other sites do, but I wanted a resource people can read quickly and have some advice for when they started to play. (8/5/01)
Games Domain has improved a lot with a nice balanced homepage and lots of information on the different genre's of gaming, almost to the point of being small newsletters, lots of information and good reading.
They also offer a patch index for all the games out today and different download locations for them. Also if you're stuck in game, they have several FAQs and Walk throughs for a game, even though there's some frame formatting problems, it's still a good resource.
Lastly, they have indexed links to different browser based games. For some you just need a Netscape or IE 4.0, others you'll need the (http://www.macromedia.com/shockwave/productinfo/) Shockrave plug-in. I was looking for some RPGs, but the games were not listed by category. :-(
Still a great site with lots of information on gaming, a decent search engine, but not many downloads. Yet, there are lots of other sites for that. (8/30/98)
The last time I reviewed Gamespot was back when Ultima Online was just being previewed. Gamespot has changed to genre specific homepages, a great news page and in-depth reviews about their features. I like their page layout and they make good use of tables and colors.
Anyway there's more to Gamespot than just good reviews and screen shots. Every review they've done for a game is listed alphabetically, so if your looking around the computer store for an old game; odds are you can find it here, from downloads, hints, related links, system requirements, to even a rating! Don't feel the reviewer does it justice or doesn't flame it enough, add your own. They even list patches.
In the features section, they offer game guides to just about every game on the market today. For example, Tom Clancy's Rainbow Six's guide has info on weapons, personnel, all the missions, cheats, and screen shots. There was such a long list of Game Guides that I stopped looking after a while.
Add a search engine, a newsletter, and ZD Net's Software Library download section. There's not much else to cram into this site. Lastly, they also review hardware with ratings, reviews, system requirements manufacturer links, and tech support numbers. One thing missing from the hardware section was a download section, but I'm going to hold it against them. (10/21/98)
I reviewed Happy Puppy back in December 1995 and it has changed a great deal since then. Not only do they have demos and reviews for all the commercial games available today for PCs and Macs they also do reviews on console games. So if it involves a game of some sort, it's probably here.
Happy Puppy also has cheats for both console and computer games. They archive all the demos, cheats, and reviews, so if you need something that's pretty old you can probably find it here.
Finally Happy Puppy has it's own newsletter called "Pawprint Press" where they talk about commercial games with long in-depth reviews, system requirements, screen shots, tips, and additional links on each title. A great site when I first reviewed it and even better site now. (7/18/99)
A well-done reference to Baldur's with everything on the characters, spells, weapons, armor, monsters, even maps of the Sword Coast and cities, but no dungeons. This site is a great reference, but if you're looking for more in depth information, this may not be the place for you.
I like the graphics they used, gives it a great feel, just like the game. The navigation is great. It would have been nice to see more detail on tactics, adventurer stories, etc. (4/24/99)
Those of us who played Ultima before the Second Age remember the lack of a strong reference guide to the game, even Origin's website didn't cover everything and it was often hard to find information. I've been thankful for Stratics since I got UO because they have everything one could ever want for Ultima.
Probably the best section is the news, it's always being updated with improvements to the game, different events happening on the shards, it becomes a daily ritual after a while. Stratics also offers in-depth references to the equipment, skills, and spells. The Skills reference has been the most valuable for me, since I can reference the cost of creating an item and how much I can sell it for.
They also have maps of the entire world, dungeons, and cities. One of the most valuable is the spawn map, which shows all the locations where monsters appear and how often. Instead of wandering for a fight, you can walk around this area, track, and find monsters, or have them find you.
Besides all the reference information, they have stories from player characters, FAQs on adventuring, to careers, to avoiding being player killed. There's too much available on this site to capture it on a single review.
They also have links to other websites, Ultima Offline server emulators, combat simulators, everything is either broken into a table or explained in-depth. If you're playing Ultima and not going to Stractics, you're missing out. (4/24/99)