MoneyBuckets for Windows
Application Details
License:
Freeware
Developer:
Joseph Delgado
Version:
1.0.3 (4/6/12)
Release Notes
Distribution:
InnoSetup EXE 584 KB.
Access Application Code Signed by Enchanted Quill Press LLC.
Full Install or current users use the 1.0.3 Update Zip.
Requirements:
Windows Running Access 2007 or Access Run Time 2007.
Attention Current Users. If you already have data you will either need to backup and restore your database or extract MoneyBuckets 1.0.3 from this zip file into the same directory you originally installed MoneyBuckets. We are working on a custom installer or looking for another third party solution to solve this problem.
Download MoneyBuckets for Windows. Don't have Microsoft Access? Download the Access Run-Time from Microsoft and start using MoneyBuckets without buying Microsoft Office.
Also refer to our Budget Template to help you get the most out of your budget and MoneyBuckets.
Screenshot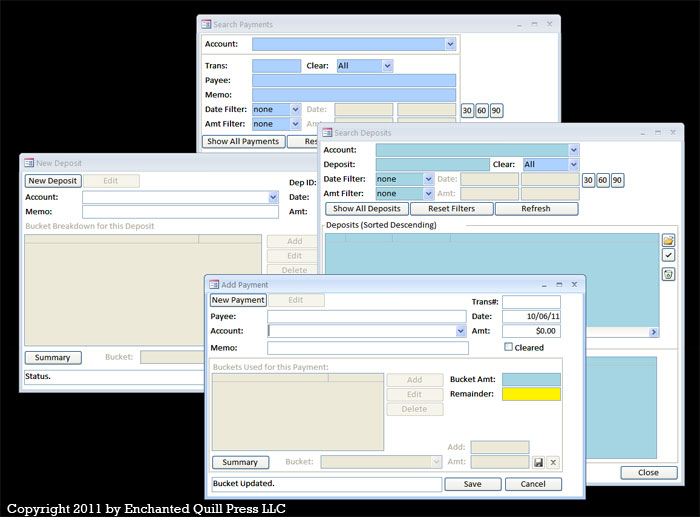 About this Application
I developed MoneyBuckets because I needed a finer control over my deposits and expenses for my family. I've used this application for over a year and a half and added and refined new features to make it easier and more efficient.