Final Tournament Results 10/28/04
A Division (Single Elimination) PDF Draw sheet
Rank
Player
Notes
1.
Pat Douglas
1st Tournament Win.
2.
Sinski Gono
1st Trophy Finish.
3.
George Weickert
1st Medal Finish.
4.
Joseph Delgado
Advanced to Semi by default.
Qtr.
Jerald Goldstein
Eliminated by Douglas.
Qtr.
Tom Baldinger
Eliminated by Default.
B Division (Single Elimination) PDF Draw sheet
Rank
Player
Notes
1.
Alex Rtishchev
1st Tournament Win.
2.
Claudio Ortiz
1st Trophy Finish.
3.
Silas Clark
2nd Medal Finish.
4.
Erik Lopez
Advanced with bye. 2nd seed.
Qtr.
Joe Charette
Eliminated by Rtishchev. 6 and 7.
Qtr.
Joe Bockarie.
Eliminated by Clark. (14), 13, 4.
C Division (Single Elimination) PDF Draw sheet
Rank
Player
Notes
1.
Vishal Goklani
1st Tournament Win. Up to B's.
2.
John Anciano
1st Trophy Finish.
3.
Nick Holerca
1st Medal Finish. Up to B's.
4.
Tony Pochesci
Advanced over Lee.
Qtr.
One Lee
Eliminated by Pochesci. 13 and 11.
Qtr.
Marv Schuldiner
Eliminated by Goklani. 2 and 1.
D Division (Round Robin 2 games to 15. Total Points) PDF Draw sheet
Rank
Player
Notes
1.
Chuck Gulyas
1st Tournament Win. Up to C's.
2.
Ajay Singh
1st Trophy Finish. Up pending.
3.
Dennis Castro
1st Medal Finish.
Final Tournament Seeding as of 10/08/04
A Division (Single Elimination)
Rank
Player
Wins/Loses
Notes
1.
George Weickert
5/2
Final.
2.
Sinski Gono
3/1
Final.
3.
Tom Baldinger
Unranked
Final.
4.
Pat Douglas
3/0
Final.
5.
Jerald Goldstein
3/0 W
Final.
6.
Joseph Delgado
3/6
Final.
B Division (Single Elimination)
Rank
Player
Wins/Loses
Notes
1.
Claudio Ortiz
3/4
Final.
2.
Erik Lopez
3/5
Final.
3.
Alex Rtishchev
1st Tourney
Final.
4.
Silas Clark
1/3
Final.
5.
Joe Charette
2nd Tourney
Final.
6.
Joe Bockarie
1st Tourney
Final.
C Division (Single Elimination)
Rank
Player
Wins/Loses
Notes
1.
Nick Holerca
2/5
Final.
2.
John Anciano
1st Tourney
Final.
3.
One Lee
2nd Tourney
Final.
4.
Marv Schuldiner
0/2 W
Final.
5.
Tony Pochesci
2nd Tourney
Final.
6.
Vishal Goklani
Unranked.
Final.
D Division (Round Robin 2 games to 15. Total Points)
Rank
Player
Wins/Loses
Notes
R.
Dennis Castro
1st Tourney
Final.
R.
Chuck Gulyas
1st Tourney
Final.
R.
Ajay Singh
1st Tourney
Final.
10/28/04 Bittersweet...nah it's over! It's finally over!!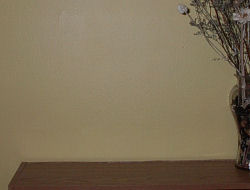 Part of me will miss the league, but after about twenty two weeks I'm glad the trophy shelf is empty. We had a lot of problems with scheduling, but the tournament turn out was great. I hope you all had fun, improved your game, and met some new people to play racquetball with. We play a competitive sport and it's great to run this for a good group of friends and great sportsmen. Until next time!
10/28/04 Vishal Goklani takes first C's in two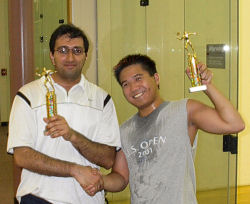 Vishal Goklani (right) and John Anciano (left) played for 1st in C's tonight over at Busch. It was a classic match up between power (Vishal) and speed (John), but in the end it was Vishal's devastating serve that won him the match. 11 and 4. Goklani asked to be moved up to B's and I'm happy to accommodate him. Believe I'm going to send Nick Holerca who finished third up there with him. John Anciano we'll leave him pending some more league matches to see how he fits.
10/28/04 Nick Holerca takes decisive third in C's.
Nick Holerca, who had first seed in C's, crushed Tony Pochesci in straight games. 1 and 1. I was busy refereeing the Anciano vs. Goklani match, but when I did peek between points it wasn't looking good for my doubles partner. Who was already sore from playing Russian Balls at 10 PM the night before. There may have been some scoring issues, but in the end can't argue the results. Between defeating Silas Clark (B) in league play 13 and 14 and his finish tonight. Pretty safe to move Nick up to B's. Congratulations on 3rd.
10/28/04 Pat Douglas takes straight games first in A's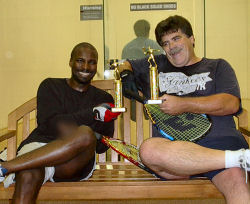 Pat Douglas (right) and Sinski Gono (left) played last night at Busch. Both players were hitting the same drive serve into the left sidewall trying to crack it out, but points were played out in the rallies with Pat's consistent DTL kills and passes that had Sinski scrambling for returns. Douglas won in straight games 9 and 7. Sinski's one finger salute to Pat's #1 victory was blurred for our younger viewers. Congratulations guys!
10/28/04 Clark and Weickert take 3rd in B's and A's
Even though not as glorious as first place, the action for third was pretty heated as well. In the B's, we had Silas Clark and Erik Lopez playing a close three game match with Silas taking another bronze in B's 12, (10), and 10.
In A's, we had Joe Delgado vs. George Weickert. George's coverage of the front court and get everything attitude made it difficult and we had a more friendly game than an all out match and in the end Weickert walked away with the victory. 12, (7), and 7. Even though he was injured he still managed to cover the court enough to win. Good game and boy do I hate Busch's walls!
10/26/04 Alex Rtishchev takes first in B's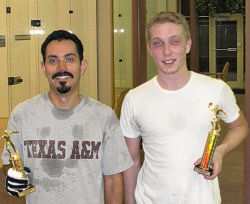 Alex Rtishchev (right) and Claudio Ortiz (left) played one of the longest matches I've refereed. It's damn close to the most total points possible in a match. Rtishchev (14), 14, and 9. Both used time outs effectively, both got to just about everything, and both had the endurance to play a very grueling three games. Lastly both had to fight back from being behind on multiple occasions.
Rtishchev's usual strategy of wearing his opponent down wasn't working too well against Marathon training Ortiz and both we're being rather defensive on a lot of points. Jerald Goldstein watched a bit and said, "they are leaving the ball up." Of course, I had to make a controversial call against Alex, but he took in stride and later said he respected the decision. Great game guys, congratulations!! Took so long I had five minutes to get ready for my intramural doubles match over on Cook.
10/26/04 Sinski Gono advances to the A Finals.
Yesterday at Busch we finally advanced the A Division a bit, not as I would have liked, but as I expected. Yes I would have been real suspicious if I had advanced over Sinski in a tournament game. Sinski did get in the way a few times, because he doesn't look back, doesn't wear goggles, and might be intentionally in the way, but I can't take anything away from his speed and shot power. A lot of his points were on the serve, which means I have more footwork work to do. Anyway it was a good match and Sinski advanced 9 and 8. Good luck in the finals.
There was one point when Sinski was in the way and Rich Tedesco said I should take it. Sinski pleaded, "You're going to take that?!" I said, "Yeah." and took the serve. I formed a game plan out around some recorded video and really followed it in the second game.
10/21/04 Gulyas takes first in D's

Chuck Gulyas (right), Ajay Singh (left), and Dennis Castro (not shown) founded a new division in my tournaments, D's. The final match took about an hour and fifteen minutes by my account. They took liberal time-outs, replayed a lot of points, caused a lot of hinders, took some risky swings, and maybe even took a ball or two on the second bounce, but they played racquetball and had a good time. Sure they will continue to develop.
It was a close game between the two guys, but I believe Gulyas had the stamina edge in the third game. Final result (14), 14, and 5.
10/21/04 Bottom Half of C Semi Finals.
Wish I could have been in two places at once to cover this one. John Anciano and Tony Pochesci played out their match for the chance to face Vishal Goklani in the Finals. Tony admitted that John was on fire and was making the lowest percentage shots possible on the court. Overhead pinches and kills from deep in the court, he played like he was possessed, but Tony was able to fight back from big leads in both games. Anciano advanced 12 and 7.
We had some movement in the lower A side also. Tom Baldinger came down with the flu and could not get well before today's deadline. He did not want to risk getting me sick and passing it on to my expecting wife. Thanks Tom and look forward to having him in the league next time.
10/20/04 Still More Semi-Finals
At Busch, we pushed forward on half of A's and C's tonight. First in A's, Pat Douglas vs. George Weickert. Both players wanted the final match, since both had three times to get there. After a close first game win, Douglas showed signs of slowing down under the get everything style of Weickert. During one point, George actually dived and crawled after the ball, but his dexterity wasn't enough under Pat's measured DTL kills. Douglas advances to his first final, 13, (11), and 3.
In C's, we had a pretty heated match vs. Nick Holerca and Vishal Goklani. During the first game Vishal's hard serve was quickly mounting up points. Vishal had played a couple of games with Hoi and came out of the gate hot. Nick might not have been warmed up enough and lost the first game. Game two Nick has in better form, but Vishal stayed consistent. I think one serve that I called good because I saw it hit the front and then sidewall from a weird starting position caused Nick some problems. I stand by my call and even if it was wrong these things happen. Being a quasi-referee from behind a glass if often difficult because you can't heard what's going on the court. Vishal advanced to the finals with 11 and 11.
Across the river, we had the bottom half of C's playing out. John Anciano vs. Tony Pochesci. I haven't heard the scores yet and I doubt I will with the Yankee game tonight. Go Yankees!
10/19/04 Another Action Packed B's Semi-Final
At Cook we had Silas Clark and Claudio Ortiz playing their semi-final. I missed most of it playing separately. Ortiz, who got hurt at Cook last tournament, came back and fought his way to another semi-final match. After three games, Ortiz will play for first against Alex Rtishchev next Tuesday. Scores were 12, (9), and 5. Great match guys.
10/18/04 Action Packed B's Semi-Final
It was a classic battle between the two campuses tonight. Busch (Erik Lopez) and Cook (Alex Rtishchev) on Busch Campus played out a three game match. I refereed and it was anyone's game until the tie-breaker. I think Alex's attrition tactics worked and was he able to close the match (14), 10, and 2. Alex advances to the finals to face either Silas Clark or Claudio Ortiz. We'll find out who tomorrow.
10/14/04 More Quarter Final Round Action
Tonight at Busch we completed the B's and C's Quarter Finals. In the B's we had Alex Rtishchev vs. Joe Charette. Alex advanced with 6 and 7. Alex started off the first game with his hard game and then switched gears to his soft game. Good luck in the Semi-final vs. Erik "Black Sox" Lopez.
In C's, we had Vishal Goklani vs. Marv Schuldiner refereed by Joe Delgado. Despite being pretty new to the game, Vishal has a pretty devastating serve (from Squash) that Marv could not get a racquet on. Vishal advanced to the semi-finals with 2 and 1.
Yesterday we had half the A Quarter-final with Pat Douglas vs. Jerald Goldstein. I wasn't able to attend, but Pat relayed the scores to me tonight and Pat advanced with 4, (6), and 2. Early next week we'll play out the one remaining Quarter and then we'll start the semi-finals.
10/12/04 Seeding error in A's
John Anciano, my ELO consultant, brought to my attention a problem with the A Draw. So I'll see what I can do to fix it sine we haven't had any matches yet. Appears I should go to the lower half of the draw and square off against Tom Baldinger instead of Pat Douglas.
10/12/04 Quarter Final Rounds of B's, C's and D's.
It wasn't exactly Busch tonight, we played over on Cook. Seemed the most convenient for the people on that side of the draw. In B's we had Joe Bockarie square off with Silas Clark in a three game match. It was a close game until Silas found the chink in Bockarie's game and ended it (14), 13, and 4.
In C's, we had One Lee vs. Tony Pochesci. I didn't see the games, but Tony had to work back from a deficit in both games and was able to pull a victory 13 and 11.
Lastly in D's, first round robin format ever, we had Dennis Castro vs. Ajay Singh. Dennis came out of an eight month break and was trounced 2 and 1. So Ajay has the lead with 30 points, followed by Dennis with 3. Two matches left in D's to determine the winner. We had some regulars on the courts today, Chris Jacquet and David Fugate playing some good doubles against newcomers Ryan and Sebastian.
10/08/04 Final Seeding Complete!
Took about four drafts for each division to get everything just right, well D's was easy since everyone plays everyone else. So please review the draw sheets and we'll start with the quarter-finals next week. Tom Baldinger, Claudio Ortiz, and myself have a tournament next week at Hillsborough. So we'll start the following week most likely.
10/07/04 D's Added.
For the first time, we're going to have a D's. Not enough people to be bracketed into a single elimination draw, but enough for a round robin format. I'm not a fan of round robins, but at least it gives people three matches and anyone a chance for a trophy. Since it's about three people, we'll have a first place trophy for D's.
10/05/04 Time to firm up those commitments
Next week is the start of the Busch Tournament, so it's time to tool up and get ready for some serious racquetball. Also will need your five dollar fee to cover racquetballs and trophies.
10/03/04 Seeding Change for Nick Holerca
I wasn't around to see it, but from the scores it was a pretty close game between Silas Clark and Nick Holerca with Nick winning 13 and 14. Based on this information, I believe Nick should have first seeding in C's followed by the highest ranked C's played from the Cook tournament Don Tietjen. Just a reminder there's one week left.
10/03/04 Where's Leigh? Florida. *sigh*
I watched Tom Baldinger play his B Singles match at Classic yesterday and I thought what a battle it would be between Leigh and Tom. They are both fast, aggressive, hard hitting, and more than a little hot-headed. It would have been a classic match up, also add the calm and collected speed-demon Sinski to the mix and it's a three way battle for first in A's. Not to discount the other A players but I feel these three are so similar in play style that it would be interesting to watch.
09/29/04 The Trophies are here!

The trophies arrived in record time, but the 2nd place trophies have an error on the engraving. So I'll call them tomorrow and resolve it.
Anyway standard engraving, "EQP Racquetball (2004-05) A/B/C Divisions Singles 1st/2nd/3rd Place. Thanks to everyone who signed up so far. Good luck in the Tournament.
Since the league so far has been a little rough going. I'm going to waive the whole four match requirement from the last flyer, but I will need to have seen you play or played against you in order to have an idea of your skill level.
09/28/04 The Trophies are coming!
I ordered the trophies last night and we really need people to help fill up the draw, so if you want to play in my tournament contact me. It's a great chance to get a taste for how tournaments go and it also gets you a chance for fame, well at least a trophy. Keeping up with the standard two trophies for 1st and 2nd and a medal for 3rd place. Spent $62.47 in trophies and about $10.00 for a can of 12 blue balls collected $60.00 in league fees. With only Pat left to pay, I'm in a hole without some other players.
09/24/04 Sinski Gono on the road to first seeding
I wasn't around for the match so no video of this potentially interesting match between Claudio Ortiz and Sinski Gono. Gono defeated Ortiz in straight games 11 and 7. We're also getting some tournament players involved: Joe Charette (B), Jerald Goldstein (A), Chris Jacquet (B), Marv Schuldiner (C), and a couple of new guys from the ladder rounding out C's. We see about adding Tony Pochesci (C) and One Lee (C) who don't know yet.
09/15/04 League Two Matches. Ladder challenges
We had a little of both worlds tonight. In league play we had Delgado vs. Holerca with Delgado winning in straight games 3 and 5. Also we had Lopez vs. Weickert where Weickert won (12), 9, and 6 increasing his potential first seeding.
In ladder play we had some of the new comers come back like Jimmy and another Vishal. Also want to send out a welcome back to Chris who suffered an eye injury last season. Believe Pat Douglas moved up to the third tier while Claudio Ortiz resisted a challenge by Joseph Delgado for his fourth tier spot. All in all, a very good night for racquetball!
09/10/04 One Stays and One Goes...so far.
Good news Sinski Gono plans on staying in the Busch league. Bad news, Marv Schuldiner withdrew. Marv has some stuff going on that demands a lot of his energy and time. He will most likely be back at the Cook Winter League. Only two players marked as chaff remain and I believe they'll be cut if not now then later. If things go well, we're looking at an eight person draw with combined divisions. I hate the idea, but we'll work something out.
09/09/04 Good Ladder Attendance and One Match
Rich's Ladder started up last night at Busch and we had some new people show up. We played a few games and got to know each other a little better. Also had one league match between Claudio Ortiz and George Weickert, I was able to get the tie-breaker one on tape. Weickert, right-handed, and as unorthodox as ever won (11), 8; and 9.
We're in the Wheat and the Chaff phase of the league. It's time to take the people who haven't been showing up, responding to email, paid league fees, or any other signs of commitment and ask them a direct and time-sensitive question. Do you plan on finishing the league? About four players I've marked as chaff, two of them are on the edge. Let's see what happens.
09/08/04 Delgado should have stayed in bed.
We had one match last night that was video taped. Silas Clark vs. Joe Delgado. I had a great first game, but I think I relaxed and could not get the same tempo going again. I started giving Silas his favorite shot, well almost everyone's favorite shot, a touch pinch in the front part of the court. Clark won (3), 10, and 10. It was a close game nonetheless with match point being a wall hugging drop shot to my forehand that I didn't get close enough too.
Let's just say the only good thing that happened yesterday was my two year anniversary. I still played hard, but just had a black cloud over me all day.
09/01/04 Three matches. Not bad.
Erik Lopez was gracious enough to play two matches after a two week break. First he played Delgado and lost 13 and 10. Next he played Claudio Ortiz and lost 5 and 11. Lastly since we've lost all but two C players, Nick Holerca played A player, George Weickert. I'm still waiting for results.
08/30/04 Dan Wadyka withdraws
The league took a little too long to get started and Dan no longer works at Rutgers, so he sent me an email that he can't continue the league. Since we're not in a forfeit zone, his remaining games have been removed. We'll have to work something out for the two remaining C players: Nick and Marv.
08/11/04 Let's go the video tape!
Had one league match tonight between Silas Clark and Erik Lopez. Lopez def. Silas (11), 9, and 4, but that wasn't the main attraction tonight. We had six games recorded. I'm trying to get out of here and go on vacation.
Alex, Pat, and myself played Pat's Cut-throat. Then we had Alex and Silas in a three game marathon. Alex winning (4), 15, and 6. Then was able to record one game from Delgado vs. Goyal match. Goyal leading the series 15-3.
The program that updates some of the content isn't working, so it's going to have to wait until I get back. Keep the league going and remember to track the start times. Remember Busch closes for two weeks after the 18th, so we'll be going to back to Cook.
08/06/04 Short Night for Sinski
Sinski Gono was able to get a couple of games in. One with me just for fun as his wife was taking snapshots or a movie with a digital camera. Then another one with Silas Clark for the league. Sinski had a photo finish with 6 and 8. Too bad the place closed early or else Sinski and Clement could of had a match was well. Have a good weekend everyone.
08/05/04 Erik "Black Sox" Lopez staying in B's
Erik Lopez was on the border of B's and C's and tonight he just tipped the scales on the B side taking and winning against two C players. First Lopez def. Schuldiner 0 and 6. Then Lopez def. Holerca 7 and 3. Then we had Nick and Marv play and Holerca def. Schuldiner 11 and 1.
08/05/04 One schedule problem, but still no shows
I had one mistake last night, but still had four players who had already played each other just use the reserved courts for playing pickup games. We did manage to get hopefully two matches out of the way. Sinski Gono vs. Joe Delgado was a close game in more ways than one. Gono def. Delgado 11 and 14. Still waiting for results on Gono vs. Weickert. Also had a web game between Goyal and Weickert, so it was a busy night for George with about five to six games? I'm going to finish the schedule this weekend and a player has two chances to make a match until we enter the forfeit zone.
08/03/04 Just ok Tuesday
We're working on a Super Tuesday at Busch, but it's supposed to be Super Wednesday. So we'll see what happens tomorrow. Two matches were played tonight, Claudio was gracious enough to take Pat Douglas on first. Douglas def. Ortiz 4 and 7. Then it was a dream match between Delgado and Ortiz, Ortiz forfeited his match vs. Delgado in the Cook league because of a calf injury, so Delgado had something to prove. Delgado def. Ortiz (13), 9, and 8.
07/29/04 Leigh Marshall twisted ankle :-(
It would have been four matches tonight, but the Delgado vs. Marshall match was stopped at 6-10 with Marshall twisting his ankle during a routine return. Since it's early in the league, the match will be restarted, Delgado doesn't want a win by injury. Leigh said he should be back next week ready to play, it did not look so bad. I think we both over trained with camp and regular play. I played for seven days straight, he played for eight.
Erik Lopez played a double header tonight and tried his game against Pat Douglas in the A's. Douglas def. Lopez 12 and 15. He also played Clement Anyadiegwu and Anyadiegwu def. Lopez 11 and 6. Silas showed up to play
Erik Lopez and Claudio Ortiz, but played George Weickert instead. Weickert def. Clark 6 and 4
We also had some pickup games. A grudge match between Joe Delgado and Vishal Goyal. Delgado walking away 12; (14), and 2. Alex Rtishchev had a sporting bet with Silas Clark at Cook and won 13 and 14. Alex looking for a #1 Power Ranking with only David Fugate in his way.
07/27/04 Busch Summer League Setup!
Basic Schedules are in place for all league players. Tomorrow morning, I'll continue to refine the schedule so you can plan your matches accordingly. Missed a couple of days of league match descriptions, but I'm sure we'll make it up. Hope to see you on the courts.
05/27/04 Lousy start for Busch Summer League!
Pat and I were the only ones that showed up for a match. Maybe something was lost in the translation. Anyway will start the engine rolling to get more people signed up and playing correctly. Pat and I played a weird stop and go match with Pat winning 7 and 4.
---
Copyright 2011-2008 by Enchanted Quill Press, LLC.
Copyright 2002-2008 by Joseph Delgado. Published since 12/31/02.
Last Updated 6/4/07. Please email Webmaster about site problems or questions.